Most homeowners in Los Angeles don't know anything about their air conditioning system. That's why they feel vulnerable each time they call an AC repair in Los Angeles. 
If you don't want to feel that way, then make sure that you educate yourself. Although educating yourself won't make you a professional technician but it gives you an understanding of the basics of AC. When you know them, you won't get ripped off again on your AC repair.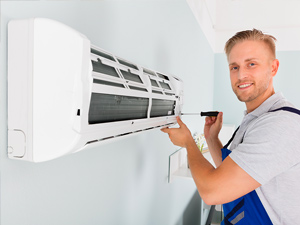 Avoid Expensive
AC Repair in Los Angeles
through Regular Maintenance
It's vital that your air conditioning or your HVAC system is properly maintained. Most AC repair calls are related to a lack of maintenance. 
Thankfully, maintenance doesn't always require calling a technician to do it. There are some things you can do on your own to ensure that your AC runs smoothly. 
You need to clean the filter every month and replace it as recommended. Keep in mind that AC can easily accumulate dirt. 
If dirt starts to build up in the evaporator coil and condenser coil, then it restricts airflow causing higher temperatures. It also results in higher pressures. 
Regular cleaning of your AC system is vital. It will help in extending the life of its parts. It also ensures that the AC runs efficiently. Furthermore, it can help you avoid expensive breakdowns. 
Leak Must be Properly Diagnosed and Repaired 
Often, many AC repair companies would tell their clients that their AC systems must be recharged frequently to prevent leaks. Indeed, checking the charge of the system is a good idea. However, you must not do it regularly. 
If the AC is low, you should ask the AC repair company to diagnose and identify the leak and repair it immediately. Otherwise, you will get a high energy bill every year by simply charging the system. 
When the leak is repaired, there's no need to check the pressure and charge it again. 
Is It an Electrical Problem? 
Most AC repairs are related to electrical issues. A blown fuse is one of the reasons. If your breaker has tripped or the capacitors have blown, then they could affect your AC unit and the other appliances in your house. Before you call an AC repair service make sure that you check those items first. 
If the outdoor unit isn't humming, for instance, then it's highly likely that there's no power to the unit because of the tripped breaker or blown fuse. 
Some of our clients would call us for an AC repair service. But the issue is related to their electrical system in the house. That's why before we visit the site, we first ask them to check their electrical systems, like the breaker, capacitor, and fuse in their house. If these areas are working properly, then we will start deploying our team to check the AC system. 
The AC system is simple. But it uses complex science. However, you need to know its basics to protect you from being duped by an AC repair service in LA. 
To further protect yourself from those companies that take advantage of the homeowners' vulnerabilities, you should only call a reliable AC repair in Los Angeles. Dial (323) 673-3107 for assistance.