Regardless of the brand and model of your air conditioning unit in LA, you will still call an AC repair in Los Angeles throughout its 15-year lifespan. You can avoid it. Even though you can expect the repair to happen, it's not normal if you call in a technician twice a year for a repair. Several problems can happen with your AC. It's especially true if you neglect proper maintenance.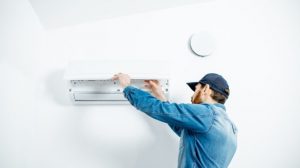 Call an AC Repair in Los Angeles when You Hear Strange Noise 
When your AC unit is operating, it will generate a sound. That's normal. However, if you hear strange noises coming from the AC, then it's a good indication that something is wrong with it. If you notice sounds that are uncomfortable to hear, then call an expert to diagnose the problem and fix it. Our AC repair specialists are available 24/7. Give us a call anytime at (323) 673-3107.
Short-Cycling Issues 
Several issues result in short-cycling. It's a problem on its own that our specialists will fix right away. One of the causes of short-cycling is a refrigerant leak. A refrigerant is harmful to the environment and your body. If leaking is the problem, fixing it right away is vital. You must not allow the leak to cause considerable damage to your unit. Keep in mind that some specialists will recharge your system. It's not the proper solution. The best fix is to repair the leak, so you don't have to recharge the system now and again. Our team will look at the issue to troubleshoot it. Once they find the leak, they will fix it right away. The repair is costly. True. But the recurrent costs of recharging the system is more expensive. A dirty air filter is another reason for short-cycling. Fixing it is simple. You have to replace the air filter. In some cases, it only needs cleaning or vacuuming. Replacing your air filter will depend on the manufacturer's instructions. Replacing it is simple, and you don't need a specialist to do it for you. However, if your AC is due for maintenance, our team will replace it for you. Then again, you need to clean it and change it regularly. 
Is Your Unit No Longer Efficient? 
Today's AC is power-efficient. It means that it doesn't consume a lot of electricity. But if your AC is struggling with efficiency, then it's a sign that it needs repair in some of its components. You will know if by just looking at your electricity bill. If the bill is getting higher and higher each month, then your AC might be the culprit. Although there are many causes of high energy bills, your AC might be one of them. That's why when you call in a repair specialist, he will assess your unit to diagnose the problem. It would be best if you did not allow your AC to run inefficiently. Instead, call our AC repair Los Angeles today to improve your unit's efficiency. Contact us at (323) 673-3107.